#ANC23: Reach Higher
Reaching higher doesn't mean stretching your resources or your health and well-being to their limits to improve your school nutrition program. This year's ANC theme focuses on reaching for help and resources from new sources and climbing to the peak of school nutrition excellence.
This year's programming is focused on extending solutions that are working in districts throughout the country. Join us for 60-minute educational sessions, 30-minute Ideas@Work and Learning Bursts, deep dive into a pre-conference workshop or come listen to one of our General Session or Game-Changers to share how we can all continue to reach the pinnacle of the profession.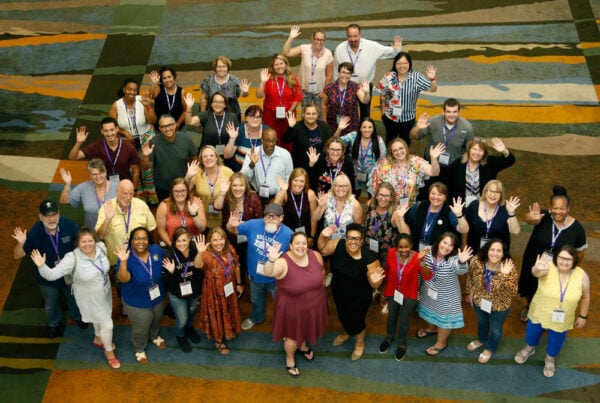 Running a School Nutrition Program 101
Attention aspiring directors, new directors, assistant directors, supervisors and coordinators...this pre-con is back by popular demand!  Join a four-hour interactive workshop designed to give you the secrets (aka the tangible solutions) needed to run a successful program back home. School nutrition directors Christine Clarahan and Shannon Ebron will cover topics including managing personnel, prepping for the Administrative Review, internal controls for handling cash, SOPs and much more! Plus, you'll have the opportunity to participate in small and large group discussions to learn how to handle the toughest personnel situations.
Speaker(s): Christine Clarahan, RD, SNS; Shannon Ebron, MS, RDN, LD
Game-Changer Sessions
Come hear from one of these top-tier keynote speakers who are dedicated to the task of upping the playing field and allow attendees to leave with ways to change the game in their day-to-day operations.
Bias-Aware Language: Use and Promote Inclusive Communication (Back by Popular Demand from #SNIC23!)
Sunday, July 9
Has the fear of saying the wrong thing prevented you from learning more about DEI or fully engaging in actions of everyday allyship? The language we use is deeply intertwined with our success and that of those around us. Let's explore language and DEI together in this safe, interactive, capacity-building session. This is your invitation to discuss what exclusive language is and provide examples to help create more inclusive environments. 
Speaker(s): Myra T. Briggs, CSC, CDR, CSSGB; Rhonda Payne, CAE
Membership Section Meetings
These special meetings allow peers from districts and schools all over the country to come together to discuss challenges and brainstorm solutions for their school nutrition programs.
District Directors/Supervisors Section Meeting
District Directors Meet-Ups by District Size
Directors and supervisors: choose a room—set by student enrollment district size—and meet with your peers to talk through pressing issues that are on your mind. Via polling, the group will decide which hot topics would benefit most from open discussion and varied perspectives. Join in facilitated table discussions on the highest ranked topics. Potential hot topics include new regulations, meal debt, universal meals and staffing challenges or let us know what other topics are on your mind during the session's open poll. Ideas and takeaways will be collected and shared with all attendees.
Major City Directors/Supervisors Section Meeting
Creative Recruiting Solutions
Stuck in a hiring rut?  Are you not getting the applicants you need? In this section meeting, we will discuss unique ways to recruit applicants for your front-line positions, including alternative ways to market positions. We'll also help you identify free or reduced-cost resources to advertise openings.
Speaker(s): Adrea Katzenmeier, RD, LD, SNS
Employee/Manager Section Meeting
Team United: How Our Differences Give Us Power and Our Power is in Our Differences
What drives people to behave the way they do and be who they are? This education session details why highly successful teams recognize that to achieve goals and minimize conflict, it's important to develop self-awareness and self-management habits. Discover why some people need all the details, while others are OK with spontaneous adjustments, why some people are "matter of fact," while others are more expressive communicators. The presenters will equip you with the insights you need to identify personality strengths, blind spots and communication preferences. You'll walk away with clarity and practical applications for improving team communication.
Speaker(s): Joe Pettit
State Agency Section Meeting
USDA Update for State Agencies
This session is a must-attend for all state agency staff looking for the most up-to-date information on USDA's recent activities and upcoming areas of interest. Please note: This is only open to State Agency attendees only.
Speaker(s): USDA Representatives
Ideas@Work
These 30-minute innovative ideas that are designed to show you how you can begin implementing these creative ideas in your district. From menu planning, food safety and staff recruiting to marketing and technology, there's a topic for everyone.
Culinary Skills Labs
Join the Institute of Child Nutrition's Chef Patrick Garmong and Chef Garrett Berdan to demonstrate recipe development with core ingredients and USDA Foods, with takeaway guides and posters (while supplies last).
Learning Bursts
These shorter 30-minute sessions get to the nuts and bolts of a topic such as training solutions, student engagement, farm to school and fundraising—for shorter attention spans but not lacking in inspiration.