Exhibit Hall
ANC hosts the largest and most thrilling Exhibit Hall in the K-12 school foodservice market! Explore more than 825 booths from 300+ companies showcasing culinary trends and cutting-edge food, beverage, supply, equipment, and service solutions for your school nutrition operation. Find out why ANC attendees consistently rate the Exhibit Hall as the top conference highlight. Check out the ANC 2022 Exhibit Hall interactive floorplan to see who is currently exhibiting and the  ANC Discovery Guide to review before you arrive onsite.
Exhibit Hall Highlights
Directors' All-Access Pass
Directors participating in the Directors-Only period should make sure to pick up your Directors' All-Access Pass contest entry card as you enter the Hall. When you visit all 15 of the sponsoring companies' booths on Tuesday and complete the details on the card, you will be entered into a drawing to win a 2023 SNA Conference Package, featuring one free registration to each of SNA's premier annual meetings: the 2023 School Nutrition Industry Conference in San Diego; the 2023 Legislative Action Conference in Washington, D.C; and the 2023 Annual National Conference in Denver.
Entries must be submitted Tuesday, July 12, at the official close of the Exhibit Hall. Look for drop-off boxes near the Hall exit. Winners will be contacted by SNA after ANC.
Wellness/Relaxation Station
Booth 236
Need to take a break from traveling miles of aisles collecting information about intriguing production solutions? Head to the Wellness/Relaxation Station, where you will find four massage therapists who will use their expertise to help reduce your stress, improve sleep, increase flexibility—and put you in a good mood!
Sponsored by PrimeroEdge + SchoolCafé
Catch the Moment! Photo Booth
Booth 1621
Grab your friends and get your photo taken in a unique conference memorabilia setting, including fun props and different backgrounds—including the "cover" of School Nutrition magazine—NITA TO CONFIRM. This personalized photo memento is a great souvenir of your time at #ANC22.
Sponsored by Cool School Cafe
IMPORTANT
For safety reasons, rolling carts and children under age 16 will not be allowed on the show floor at any time for any reason.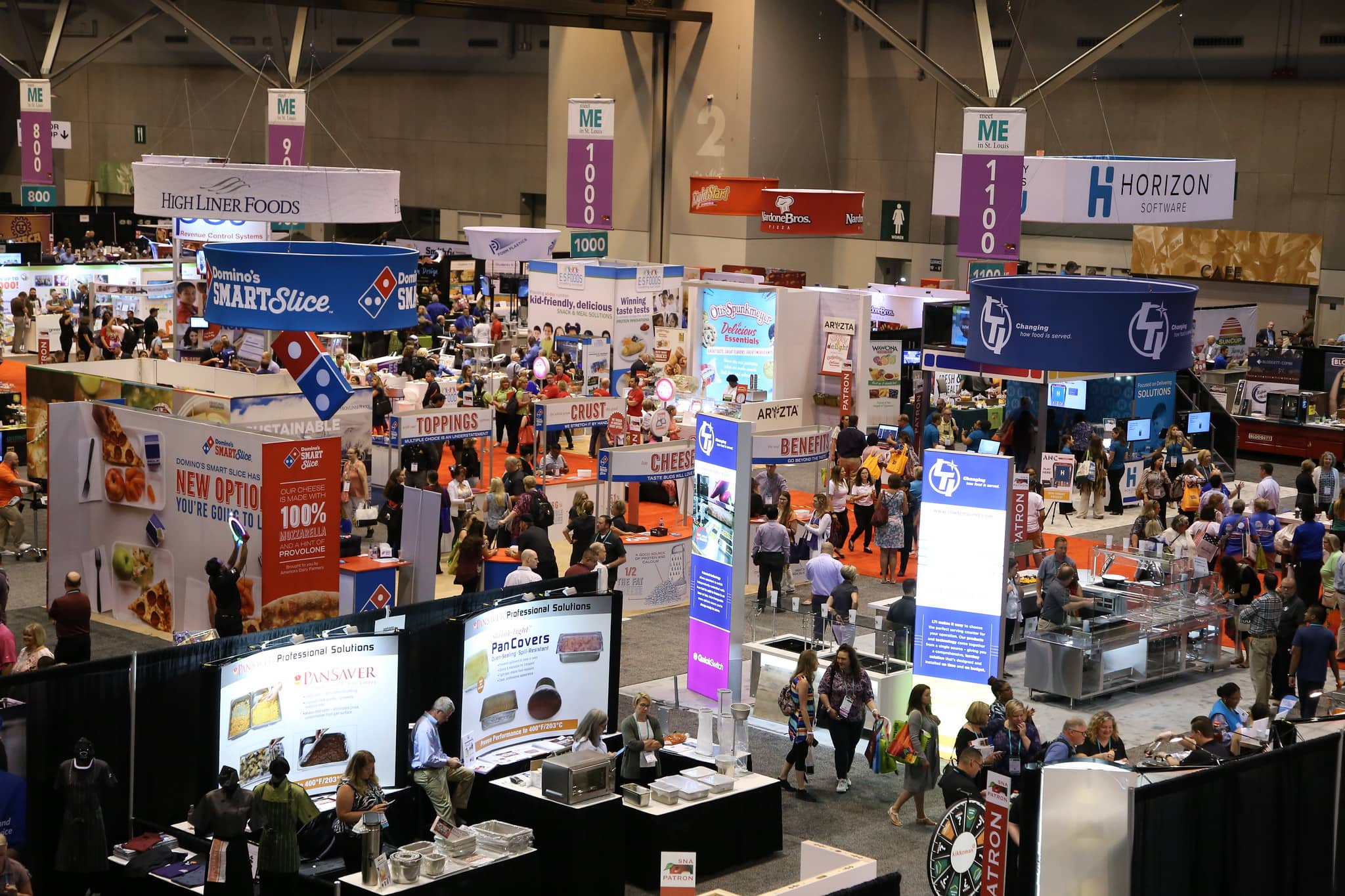 Exhibiting Hours of Operation
Monday, July 11: 9:30 am–2:30 pm
Tuesday, July 12: 9:15 am–12:00 pm (Directors only)*
Tuesday, July 12: 12:00 pm–2:00 pm
*Exclusive Directors-Only period. To participate, you must be a dues-paying SNA national member at the director level or a state agency member. Directors/supervisors may be accompanied by one manager or employee from the same school district, but you must enter together at the same time. 
Partners Pavilion: Booth 220
Engage with allied organizations at the Partners Pavilion. Network with those who share your commitment to the K-12 foodservice and support the work of school nutrition professionals.
American Commodity Distribution Association (ACDA) is a non-profit professional association devoted to the improvement of USDA commodity distribution system. The purpose of the ACDA is to provide a collective voice in promoting the USDA Donated Food Distribution Programs as a means of strengthening the American agricultural economy and provide food assistance to needy Americans. ACDA members distribute over 1.5 billion pounds of domestically produced commodities annually to programs such as the National School Lunch Program and School Breakfast Program, the Emergency Food Assistance Program, the Summer Food Service Program, the Commodity Supplemental Food Program, and the Child and Adult Care Food Program. www.commodityfoods.org
The Food Research & Action Center (FRAC) improves the nutrition, health, and well-being of people struggling against poverty-related hunger in the United States through advocacy, partnerships, and by advancing bold and equitable policy solutions. For more information about FRAC, go to www.frac.org.
Visit School Nutrition Magazine
Front Entrance
Your favorite professional magazine also has a presence at ANC each year! Look for the School Nutrition booth just inside the Hall near the front entrance to share your feedback about magazine content and how can we make it even better! We're always in the "market" for new ideas, leads and resources that we can share with readers. Stop by and say "hello"—and pick up a free, magazine cover souvenir button.
SNF Match Game
Support your School Nutrition Foundation by visiting the booths of these four SNF Match Game Sponsors. All school nutrition professionals will receive an SNF Match Game Card as they enter the Exhibit Hall on Monday, July 11. When you get all four signatures on the card and enter your contact information, you will be entered into a drawing to win one of four (4) 2023 registrations to SNA's Annual National Conference in Denver. Sponsored by Cool Tropics, Horizon Software International, Kikkoman and Wild Mike's Ultimate Pizza
Please bring your completed card to the School Nutrition Foundation Booth. Winners will be contacted by SNA after ANC. Entries must be submitted Tuesday, July 12, at 2:00 pm.
Open to ANC attendees who are employed by a school district. One entry per person. Void where prohibited or restricted by law.
Etiquette
While the Exhibit Hall is an undeniably fun place to be during ANC, it's important to keep in mind that it is primarily a place where business is the top priority. Games, giveaways, and samples are marketing tactics intended to entice you to learn more about a company's product—and for industry to learn more about your needs. So, be prepared to do your part!
Don't flip your badge to the reverse so that exhibitors can't read the information. This is a very rude practice that sends a stand-offish message about how you view potential partnerships with companies.
If you are not interested in hearing about certain products/companies, you can politely, but firmly decline with a smile and a wish for them to "Have a good show."
If you are interested in a product or service, take time to listen to what the exhibitors have to say.
Be honest about your program's needs. Use one of the Worth Noting pages in this Discovery Guide to jot down some quick notes about your program, such as number of sites, free/reduced percentage, meal programs offered, type(s) of prep kitchen, biggest menu challenges, etc. If you are a manager/employee, you can make notes about your prep limitations, staff, most popular menu items and so on. Reference this cheat sheet in the initial hours of your Exhibit Hall time, but you will soon have it memorized!
Be honest about your interest in the product and the company—why do you think it will or won't work in your program? What features do you like? Which ones make you hesitate and why?
Don't take advantage by hoarding extra giveaways or samples. If you want to bring shelf-stable samples back home to test with other team members, wait until the last hours of the Exhibit Hall to ask vendors if they have excess to spare.
Be aware of your district's policy for personal acceptance of contest prizes from exhibitors.
Always be sure to thank the vendors for attending ANC, supporting SNA and partnering with you to serve children. No matter your specific job title and responsibilities, all school nutrition team members are expected to be ambassadors of their profession and demonstrated experts in the business of feeding kids at school.